Eric Durant, PhD, MBA, PE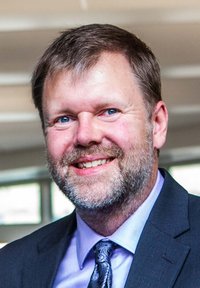 I am a professor and the director of the master of science in machine learning program at Milwaukee School of Engineering (MSOE). During the summers I am a DSP Research Engineer at Starkey Hearing Technologies in Eden Prairie, MN. While on sabbatical in 2018–2019, I worked with NVIDIA on deep learning applications to audio signal processing. My research includes deep learning based speech enhancement and fall detection, beamforming, convex optimization, genetic algorithms, and spatialization. I am an inventor on 8 US patents.
I earned bachelor's degrees in electrical engineering and computer engineering from MSOE. I earned my master's degree and PhD in electrical engineering from the University of Michigan and the Executive Master in Business Administration (MBA) at the University of Wisconsin–Milwaukee.
I am a senior member of the IEEE (S'93 M'02 SM'06) and a member of the American Society for Engineering Education (ASEE) (M'02). I serve as an ABET EAC program evaluator for both computer and electrical engineering programs. I was recognized by STEM Forward as the Young Engineer of the Year in 2013 and by MSOE and our students as the Oscar Werwath Distinguished Teacher in 2016. Additionally, I serve on the Board of Trustees for the Milwaukee Repertory Theater

Dr. Eric Durant
Program Director, MS in Machine Learning
Professor, EECS Department
Milwaukee School of Engineering
1025 North Broadway
Milwaukee WI 53202-3109
durant@msoe.edu
Office: L-339
414-277-7439 (O)
Pronouns: he, him, his